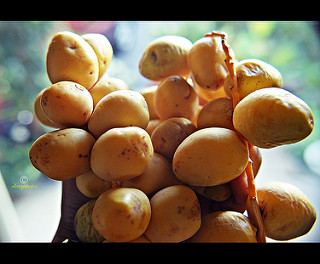 Check out this Homemade Date Chews Recipe:
I found a recipe in Thrive in 30 days for date chews. I am trying to eat more whole foods I prepare so I thought I would try my hand at some energy chews. It was a simple recipe and tasted great but was a mess while I was out running. I think next time I'll make the shape a little thicker and then wrap them individually in saran wrap.
10 dates (remove the pit). High glucose, immediately available to liver, doesn't have to be broken down, but burns quickly. Best suited for high-intensity exercise of short duration.
4 Tablespoons of coconut oil (I used Trader Joe's virgin coconut oil). Superfood! Medium-chain triglycerides go directly to your liver to deliver their energy, without having to be processed first.
Lemon juice to taste
Blend in a food processor until smooth. I then placed it on a sheet of waxed paper and smoothed it out and froze it.
My mistakes:
I needed to make it thicker so it would be easier to cut. I made mine more like a thin pancake.
It doesn't freeze (probably because of the coconut oil) which makes it readily accessible to eat but didn't help with my flat pancake so it broke into pieces.
Wrapping it in wax paper. Next time I'll use saran wrap.
They taste delicious and are easy to eat. I have had some before an 85 minute interval trainer ride and also tested at hour 2 of a 4 hour run just to see if they taste good and settle well while running. They worked for me!