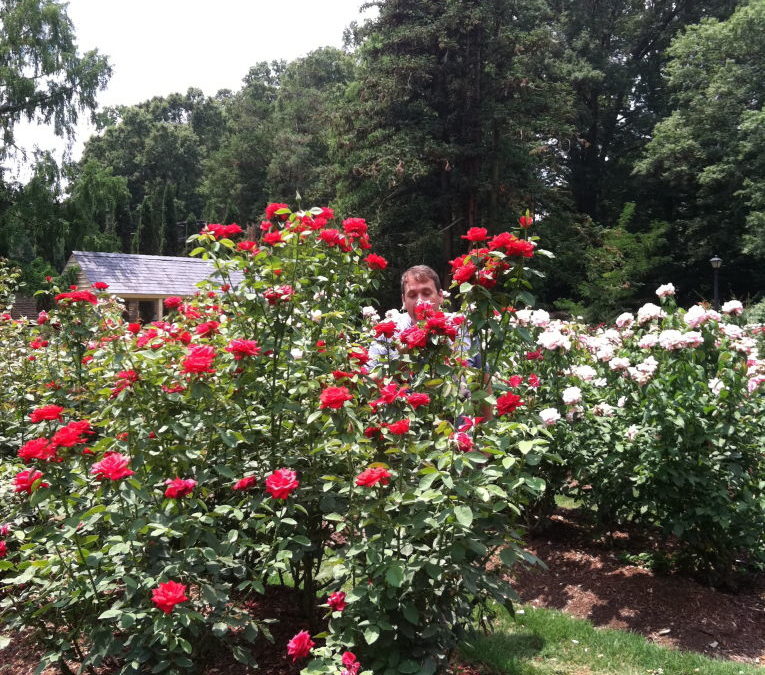 The other day my husband and I went to the Rose Garden in town. It was the first time we had been there and had a nice picnic. We took some funny pictures of us smelling the roses and it made me think about the saying 'take time to stop and smell the roses'.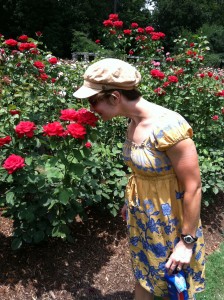 I'm one of those people who doesn't really stop to smell the roses, but rather smells them as I am walking, running or riding by. I will choose a trail over pavement any day but I am not the type of person to stop and look at a flower or poke a turtle with a stick. One thing about mountain biking is that you are not really able to enjoy the view so much while you are riding. If I looked out over a mountain, that is the direction that I would go and what is the point if I am dead or hospitalized!
For me, the biggest part about being on a trail is being away from traffic and other people. When I lived in Washington, DC it was par for the course for trails to be busy but here I can run for over an hour and sometimes only see 1-2 people. I can ride in a local park by myself and not see anyone else for an hour or more if I go at the right time.
My husband is more of a stop to smell the roses kind of guy. This helps to balance us out. If it weren't for me, we may never reach our destination or finish what we had started. If it weren't for him, I may not notice the spectacular view from Looking Glass Rock. When I told someone that my friend Kobza and I hiked rim to rim across the Grand Canyon in 11 hours their response was did you even enjoy it? Of course I did, but for someone else, they may not have. Kobza and I are very much alike and for us, it is more about the feeling of accomplishment. In addition, seeing canyon walls for that long starts to just look like canyon walls.
I think my attitude towards always moving forward comes from the way I was brought up too. I don't remember ever being focused on enjoying what we were doing at that particular time or looking at a view of something but more focused on the end result. If we were going on an 8-mile hike, we were focused on the end of that 8-mile hike. Not to get it over with necessarily but because that was the finish. Other family members may have felt like it was a different experience but that is how I remember it.
My husband refers to it as 'on a mission'. He says my family is always on a mission and to me, his family his painfully slow. So slow in fact that one time I went out with them sightseeing and my back hurt from walking so slow! Probably a good balance is what we end up doing when it is just the two of us.
I've learned to slow my pace a bit and I've also learned to look at the scenery, which is much easier to do now that I am adventure racing. Sometimes there is a lot of standing involved when looking at maps, changing out gear etc. Plus, my teammate Bob is all about taking pictures which is a great reminder to me to actually look at what my surroundings are for their beauty (or unbeauty because you wouldn't believe how much trash is in the wilderness!).
All in all, I like how I am. I like that I am always moving forward and looking ahead. I don't want to ever stay stagnant for too long, physically or mentally. I want to get to the finish not to get it over with, but to feel the sense of accomplishment I get before immediately moving on to the next thing. Besides, I really don't even like the smell of roses.