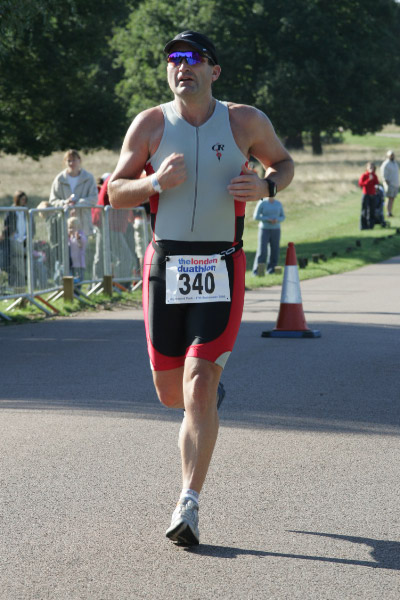 Uwharrie Rumble Race Report:
July 9-10 was the Uwharrie Rumble weekend, directed by OnTheMark Sports. I had participated in the event last year and was excited for this year's race. Saturday was a trail half-marathon and Sunday was a 6 hr mountain bike race. This was a reverse from last year, which ended up making a big difference at the end of the weekend. There would be individual half-marathon winners and individual mountain bike winners. For those that chose to do both events, there was the title of Queen and King of the mountain for winning the overall race.
I spent Tuesday through Thursday in a hotel in New York in meetings all day long with little sleep and too much food. Thursday night I slept 5 hours due to a cancelled flight and this is the most important night of sleep. Friday I was tired all day but had a lot of work meetings so never got a chance to rest. I slept awful that night as well but after a breakfast of oatmeal and applesauce, I took off at 6:00am for Uwharrie.
I got there with about 30 minutes to spare which was perfect. I had to park about .25 miles down the road so it was a great warm-up jogging to the check-in and then back to my car and then back to the start. The race got started on time at 8:30 (thank you race director!) and we took off. The course was different than last year and we ran Keyauwee in the reverse direction. The heat and humidity was oppressive but it usually doesn't bother me too much. I don't think my wicking technical gear could have been any more wet or hold any more sweat. I passed two females within the first mile or so but really had no idea what place I was in. With a couple of miles to go, I saw one female up ahead and kept trying to catch her. She kept a great pace so I never made it and was shocked to find out that I came in second overall and had been chasing first place. I asked her after the race if she knew and evidently her boyfriend had told her. I'm not sure I could have made it up in the last two miles because I was running at a pretty good clip. Finishing time was 1:57 or an 8:59 pace for, what I consider a pretty challenging trail run. I was less than one minute behind the winner.
Fuel: 1 GU gel and 2 GU Roctanes
2nd overall out of 18 women
1st in age group
19/62 men and women combined
I drank my recovery drink back at the car along with a couple of apples from the post-race table (thank you for providing fruit!) and headed home. I took an ice bath, drank some tart cherry juice and Athletic Greens and vegged out the rest of the night.
Sunday morning my husband and I got up at 5:30 to head back to the Uwharrie's for the mountain bike race. I was happy that he was going with me because even though it is only 2 hours, it is an incredibly boring ride with not a single coffee shop on the way to treat me with a post-race frappucino. This year's race omitted Supertree and added the new single-track trail along with Keyauwee in the reverse direction from last year. This meant that the uphill climbs were mostly singletrack and made it a very challenging course. I saw the first place female and knew that I had to beat her in order to be Queen of the Mountain.
The race started on time (thank you again RD!) along a fire road to the far end of the new trail (not sure of the name). I saw my competition take off like lightning and said to myself stamina and experience will win this race. I knew even if she was faster than me I might be able to beat her by never stopping, which is how I race when I am by myself, and by practicing smart nutrition and pacing strategy.
The new singletrack section is pretty fun and reminds me a little of Lake Crabtree County Park. It is a great beginner trail for those new to the Uwharries. We came off of that pretty quick and started on Keyauwee. The technical uphill climb was incredible. Climbing is what I am good at and I never made it more than 2/3 all the way up each time. Even pushing the bike was challenging. After that was a fast single-track gravel portion which had a slick turn that caught me by surprise the first lap and almost had me seeing the bark of a tree.
The next technical portion was a fast downhill over a rocky creek bed. A woman from SC was behind me and I was hoping to shake her which I ended up doing so that I could just focus on the first place woman. I walked the creek bed the first lap but flew over it every time after that. Then more uphill singletrack.
Each lap we rode through the start/finish and at the third lap I asked my husband how far behind I was from first place and he said 30 minutes. I knew that I wouldn't be able to catch up with her on speed and could only hope that the heat and humidity (again, it was oppressive) got to her or she just went out too fast and didn't pace smart. Kevin also said that I was about 30 minutes in front of 3rd place so this made me relax and just keep chugging away.
At the start of lap 6 I saw the first place female by her car with a skirt on and realized that she had decided not to finish the race. I WAS GOING TO WIN!!! I still felt great and started my last trek up Keyauwee with renewed energy and a smile on my face. The winner is the one who does the most laps with the best time in 6 hours and I was going to do an entire lap more than she did.
The last lap was awesome for me. Whenever I text or call people after a race to tell them how I did, it is never bragging, but usually more that I am surprised at how well I did or am humbled by how much I got spanked. This race, more than any other race, was my best performance. I have greatly increased my technical skills over the last year, especially my downhill riding. This was a very challenging course and I rode most of it. I never crashed (although I did have my bike slide out once and caught myself with my foot), and I never stopped in six hours except one time for about 5 seconds to switch out my water bottle and one time for about 30 seconds to take a bio break in the woods. My pace also was consistent and within just a few minutes of each lap.
For the first time I have ever made the podium in a race, I felt like I deserved it.
Race Fuel: 3 GU gels, 2 bottles of GU Brew, 2 scoops of Sustained Energy
I came across the finish, did my 5 Uwharrie Burpees and then waited for the results. My husband didn't even know that I won so when I told him, I said that I would have also won Queen of the Mountain because I beat first place by an entire lap.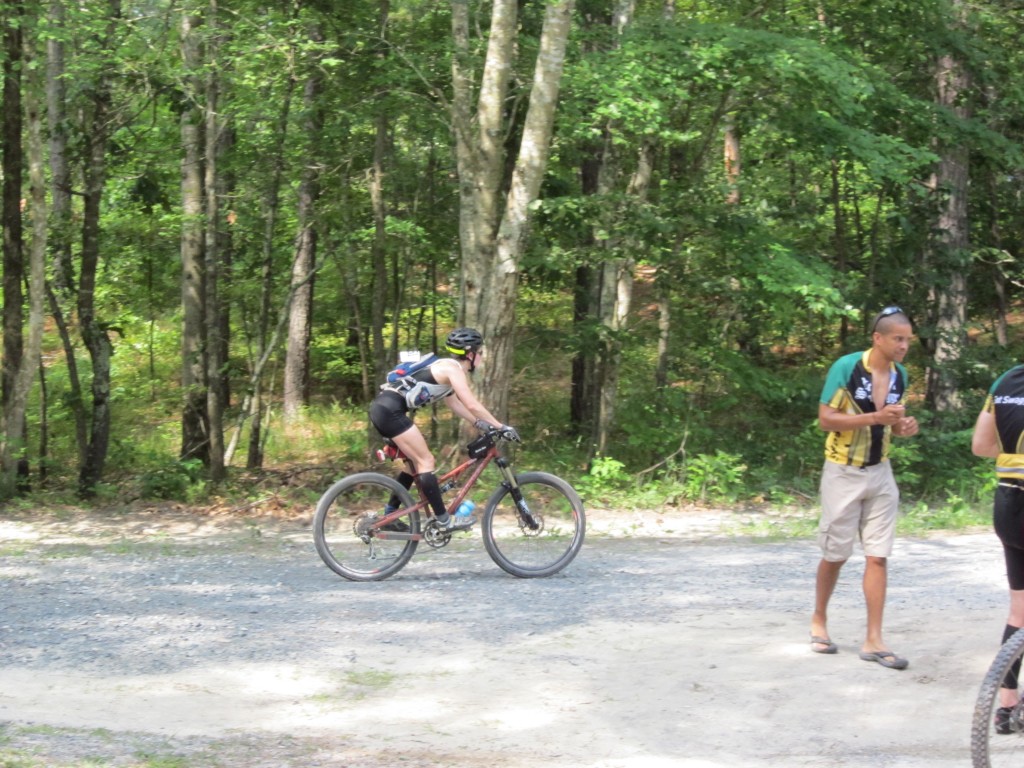 Well, my elation soon turned to disappointment when they announced the overall weekend, Queen of the Mountain winner, as the winner from the half-marathon. My assumption is that On The Mark Sports was lazy with their website and basically copied and pasted from the year before, when the marathon was to be on the second day. There was a points system and in the event of a tie (which we had since we both ended up winning one event and placing second in the other) the half-marathon was the winner. This only made sense if the half-marathon was on the second day. Otherwise, there was no reason for me to even do another lap or really, to even show up since no matter what, she was going to win overall for the weekend. It was extreme prejudice against the bike or extreme laziness in not checking the website.
When I brought it up to the RD at the end, he just said he was sorry and that was what was written on the site. I knew it wasn' his fault because he just joined in to RD the race two weeks prior. I was also a little surprised that the winner felt deserving of the award because I certainly wouldn't have. It is not her fault that the rules weren't changed, but I think I would have been embarrassed saying 'Yes' and doing a little fist pump. I decided to chalk it up to age/experience since she is 14 years younger than I am. There is no logic in giving an overall title to someone who won by less than a minute one day and lost by a lap or about an hour on the second day.
I wrote an email to the address listed on the website as soon as I got home. When I checked the results on July 12, they had me listed as second place even in the mountain bike because one of my laps didn't get captured. I pointed this out and he corrected it on the website and basically said 'Sorry' but didn't admit to the error. Here is an excerpt of the letter:
Much to my surprise and disappointment, I did not win at all, because based on your rules, if there is a tie, the half-marathon winner 'wins'. Your website says…
This type of scoring will push participants to use strategy, and it will also give the participants a specific goal on the second day of competition. Each participant going into day two will know whom he or she has to beat to be crowned the King/Queen of the Mountain!
Whichever male and female completes the MOST LAPS (emphasis mine) in the 6 hour MTB Race and has the fastest Half Marathon time will be the King of the Mountain. Wicked cool prize! Can you do it? Could you be the King of The Mountain?
Well, I am not sure what kind of strategy is needed on the second day if the tiebreaker is from the first day. There is no logic in that equation. I raced the entire 6 hours and she chose to quit early and she still won overall. How does that make sense? It only makes sense if the website was not changed from the previous year. Basically, she just needed to ride enough laps to beat the third place winner, who did four laps, in order to be the overall champion. No matter what, I wasn't going to win.
Some of you may think that I am overreacting to such a small race. I am not the type to call out a race director if I got 9th place and the results say 10th. But I have been an RD and I have friends who are RDs and I know that my friends would have seen the error and made it right. I paid for this race and looked forward to it as possibly my only pure MTB race this season. I had considered doing their Angry Monkey race in September but I really don't feel that I want to do any more of their races. I love the idea of the Rumble. I love that it is a weekend that involves strategy (at least in concept, but not this year because of the rules not being changed). I don't care about the prize. Not one bit. I just want them to admit that they messed up so that they pay more attention in the future.
The race is over and after this post goes live I won't think about it anymore. I have a 3 24+hour races still on my calendar this season. It isn't my job and it isn't a hobby or passion that makes life better in some way for other people. But I did still race the best MTB race that I ever have (even beating most of the men's field!) and I'm really proud of myself in an 'I can't believe I made it up that climb!' type of way.
Update: I just got an email from a friend and after reading it realized that really, I should just lighten up. It was never about winning a prize, but more about admitting to how illogical the rumble was. Who cares if I won or lost, I know I raced a great race. And thinking even more about it, I actually am embarrassed that I even text people after races to tell them how I have done. I may have to reconsider that…..
As another friend said and I will agree for myself 'I'm not as cool as I think I am'.
🙂