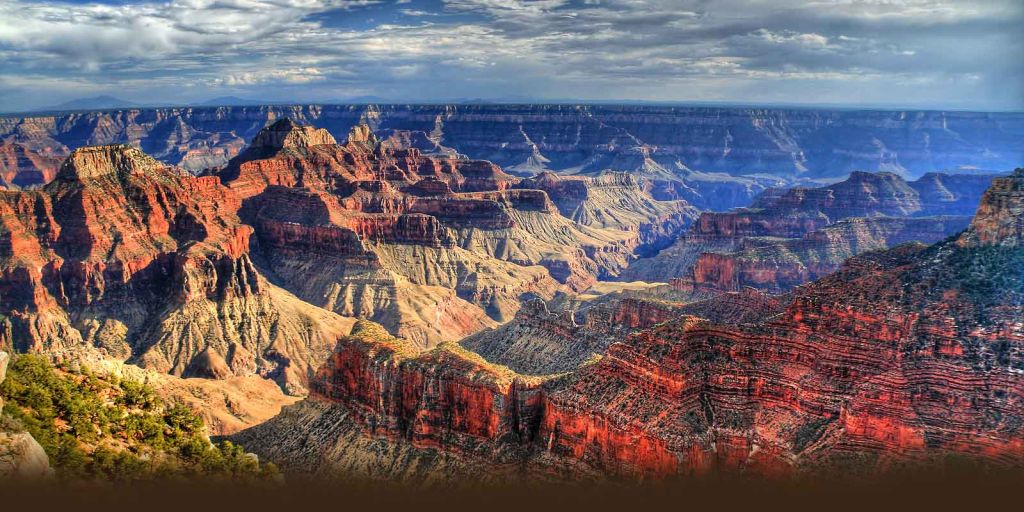 This post is meant to be a tip sheet for people who desire to hike the Grand Canyon rim to rim in one day. When planning our trip, we found websites for rim to rim hiking while camping over one or two nights or running rim to rim, but not hiking rim to rim and certainly not crossing back again. Hopefully, the information here will educate you enough to hike the trail safely, or to decide that maybe the trip isn't for you.
Hiking rim to rim is serious business and not for the faint of heart. Backpacker.com rated the Bright Angel Trail as one of the top 10 most dangerous hikes. About a decade ago they implemented the PSAR program (Preventative Search and Rescue) where Rangers patrol that portion of the canyon looking for hikers that are in trouble. We saw some of these rangers while we were there and we passed some people that probably ended up needing them. Ignorance is forgivable but stupidity is not. Take this hike seriously by making sure you have enough fluids, electrolytes and calories. As we left the Grand Canyon, there happened to be a story on NPR that there were excessive numbers of rescues already by May due to people not understanding their activity level and hiking farther than they could handle.
Down is optional, Up is mandatory
It is not like a hike on a mountain where the hard part is first. We passed several hikers a few miles in with only a water bottle. The hike back up may take you 2-3 times as long as going down.
May-September are considered danger months in the canyon. In May, the temperatures range from mid-30s on the rims to mid to high 90s at the bottom of the canyon. Check the temperature ranges prior to planning your hike and know that the North Rim is only open mid-May through mid-October due to weather and snow conditions. Our temperature ranges were 40s on the rim when we started and 100+ at the bottom of the canyon. One of the thermometers we saw showed 110 but this didn't even take into account the heat coming off some of the canyon walls. www.grandcanyonhiker.com says this:
What's the inner gorge like in the summer? Try this: Preheat your oven to 500 deg F. Open the door to let the wave of heat envelope you. Stand there. Keep standing there. Imagine you can't close the door. Imagine that heat is everywhere you turn. There's no escape. There's no shade. Even the night radiates relentless heat. That's the Inner Gorge Grand Canyon in the summer. Is your body prepared for that? Are you prepared for that?
Fast hiking rim to rim is less than 14 hours. 16-18 is the norm. This hike is not recommended by the National Park Service and there are signs everywhere telling people not to do it. Most people budget 1.5-2.5 days. Rescues are frequent because people overestimate their ability.
Our trip was booked eleven months in advance. The rooms book up fast, especially on the North Rim during the prime hiking months of May, September and October. If you do not book in advance, you may end up paying more for a room than you want or having to bunk with other people in hostel-style housing.
The closest airports are Phoenix (South Rim) and Las Vegas (North Rim). Take note that you will not be able to carry your trekking poles on board as a carry-on. Mine would not fit in my pack or small suitcase so I ended up buying two poster containers at Staples, duct taping the containers together and checking them. You could also ship them in advance if you had someone to ship them to or worked something out with the hotel. It might be cheaper than checking them, as the fees are now $25.00+ and United considered them oversized even though they were collapsed and in the poster containers.
We chose the Bright Angel lodge for our stay on the South Rim. For $90.00 we got a single and double bed. The rooms are sparse but they have amenities for showering and your own private bathroom. There is no coffee maker. The water did run hot enough in the sink that we were able to make Starbucks Via and oatmeal easily. Beware, the walls are paper thin and the room is not very dark. You will want to bring ear plugs and possibly an eye mask. The extra weight may be worth it in the pack for a good night's sleep.
For the North Rim, we chose the Frontier Cabin at $118 per night for one double and one twin. Same situation with the walls being very thin. I could hear everything they were saying and doing in the next room. This room had hygiene amenities as well and a coffee maker. Even if you don't drink coffee, they are useful for heating water to a very hot temperature. We should have thought to call and ask the hotel what they had in the rooms so we didn't pack soap with us. One alternative is to camp. Reserve these well in advance too as camping permits are limited. We decided we wanted a bed and had enough to carry across the rim without also carrying a tent and sleeping supplies.
The first shuttle in May arrives at Bright Angel Lodge at 5am to take hikers to the South Kaibab trail. Consider whether you want to take the shuttle to the trailhead or back to your care if you are taking different trails going and coming back. Since we parked at the Bright Angel Lodge, we took the Bright Angel trail back up and ended up at our car. We liked that idea better.
One thing we found very important was the recovery day in between. Our itinerary was:
Monday – Drove from Phoenix to Sedona and walked around for about an hour. Drove to the South Rim and walked the perimeter trails for about 90 minutes. I recommend this, as there are beautiful views of the canyon and educational placards along the way. A great rim hike is the Hermit's Rest trail.
Tuesday Hiked South Kaibab to North Kaibab trail
Wednesday Hiked a total of seven miles throughout the day on the North Rim
Thursday Hiked North Kaibab to Bright Angel trail
Friday – Hiked Mt Elden in Flagstaff
Warning: finally reaching the North Rim is somewhat anti-climactic. It is just a parking lot and there was one woman there by herself waiting for some hikers who were doing rim to rim. After reaching the top, you then have to walk another 1.2 miles to the lodge unless you have someone waiting for you. There is no free shuttle service like on the South Rim. The shuttle service is $7.00 to take you to the trailhead and only leaves at two different times in the morning. 1) I think this is a total rip-off to charge $7.00, 2) The park newspaper and the person at the front desk gave us different times that the shuttle left so even if we were to take it (we didn't since I think it is kind of dumb to ride 1.2 miles when you are about to hike over 20) we wouldn't have even known when it left. There is a bridal/walking path from the trailhead to the lodge. Since part of it was snow-covered, we weren't really sure what the status was so we took the road which ends up being an extra half-mile. Take the bridal path.
The General Stores on both rims are well-stocked. The South Rim General Store is basically a grocery and has all of your food needs and the prices are very reasonable. They have frozen meals, rotisserie chickens, fruit, vegetables, deli meats, beer and then your normal hiking/camping type food. The North Rim General Store is much smaller but would have had most of what we needed. They had Gatorade, PowerAde, Clif bars, trail mix, crackers, coffee, hot chocolate and some grocery items. The park could easily overcharge for these things since hikers are a captive audience but they don't. There are also some items at Phantom Ranch at the bottom of the canyon: Luna bars, Gatorade, trail mix and items like Advil.
We could have skipped the recovery day in between but we were glad we didn't. It allowed us to get a good night's rest and see the North Rim. We would have missed some of the stunning beauty by not hiking on top of the canyon on that side. We hiked a total of seven miles in chunks of about 1-1.5 miles throughout the day.
We packed some of our gear in giant Ziploc bags so that we could fill them with ice when we got to the lodge. We iced different parts of our bodies for about 30-40 minutes total 1-2 times Tuesday night, 2-3 times Wednesday and again on Thursday night in the hotel in Flagstaff. We also stretched and I used a Trigger Point Therapy massage ball that I took with me across the canyon. We took in electrolytes on Wednesday even though it was more or less a rest day. We actually felt better physically on the trip back through the canyon but were more affected by the heat because it was about 10 degrees hotter that day.
There were many items that we took, some of which we deemed essential and others that we decided weren't necessary. I have placed an * next to those items that we thought were essential in May and put italics through those items we didn't end up needing. The brands are not necessary but I put them just as an FYI.
*Backpack Osprey. Practice beforehand with everything in your pack so you know that it fits.
*Hydration Reservoir Hydrapak, this will be much better than carrying a water bottle
*Convertible pants – Mountain Hardwear
*Mid -weight technical top Under Armour
*Tank top
* Sports bra – Moving Comfort Fiona bra
Compression shorts Under Armour
One extra tank
Rain jacket with taped seams
*Two pairs of wool socks Smartwool and Swiftwick
*Two pairs of gloves one warm pair and one fingerless for the trekking poles.
Balaclava
*Hat with brim
*Ex Officio underwear (you need technical underwear if you are going to be sweating in your shorts all day)
*Sunglasses – Native (there is no shade + there can be a lot of wind blowing sand across your face)
*Nerd strap for glasses
*Band-aid Friction Block stick (BodyGlide can be used as well) to help with chafe points. I only had two chafe points in four days of hiking with a pack one where the tag was on my shorts and one from my pack rubbing against my side)
NuSkin liquid bandage
*Gallon size Ziploc bags (can pack your stuff in tighter, it will keep them dry if it rains and you can use the bags for icing at the lodge)
*Duct tape (small piece rolled around a pencil or lighter)
Blister pads (I didn't like these because of they way they fit. It would probably depend on where your blister was since they come off in your shoe)
*NSAIDS (They have sundries at Phantom Ranch in the bottom of the canyon if you have a pain emergency).
Gypsy Wrap (not essential for most people but if I didn't have one, I would have at least had a bandanna)
*Trekking Poles Leki
*Trail runners – Brooks Cascadia
Headlamp Black Diamond
*First Aid kit Tecnu Extreme, Wounded Warrior ointment, various bandages, blister block Band
Aids, ibuprofen, Claritin, Imodium
Epi-pen
Compass
*Emergency blanket
Handwarmer packs
*Lightstick
Wrist sweatband
*Nutrition GU Brew, Starbucks Vias, trail mix, Justin's Nut Butter packets, Clif Bars, Clif Mojo bars, small cup of canned salmon, GU Chomps, Ezekial bread, Bison jerky
Trigger Point Massage Ball
*Aquaphor – I used this for my lips and can also be used for chafing
Flip video camera
*Water bottle Nathan. This one has a straw. I attached it to the front of my pack and could easily drink from it. I put sports drink in the bottle so I could keep my reservoir clean with pure water
*Endurolytes
Ipod Touch
*Toothbrush
Kobza's pack
*Backpack – Camelback
*Hydration reservoir
*Keen Hiking boots
Headlamp (it was light by 4:30am)
*Emergency blanket
*Food (same as above)
*Trekking poles – Leki
*Sunblock
Insect Repellent
*Knife
Detergent packs 6 (only needed 2)
Chapstick
Brush (luxury item)
Kleenex
Topricin
*Wet wipes (make sure to carry a small baggy in the event you have to do a #2 because you need to carry your trash out. Having a baggy to put it in makes it much better. Thankfully, we did not need it!)
*Sunglasses
Pocket Mirror
Spork
*Map
*Camera
Cell phone
Cell phone dry bag
Soap
Dental Floss
*Deodorant
*Toothpaste
*Toothbrush
New Balance Minimus
*Fingerless gloves
Warm gloves
*Bandanna
*Convertible pants Mountain Hardwear
*Shorts
*Sports bra
*Tank top
*Jacket
*****Grand Canyon Cookies!
What we should have brought:
Earplugs
Eyemask
Miniature deck of cards for relaxing in the evening
Smartphone – I got an IPhone a few weeks after our trip. I realized that we could have eliminated
2 of 3 electronics taken on our trip if one of us had one.
In 38 minutes the temp had increased 20 degrees so we ended up not needing the cooler weather clothing at all. I think it would have been easier to tough it out waiting for the shuttle and the beginning of the hike rather than take the extra clothing. However, it is cooler on the North Rim and I used all of my clothing on the rest day. I may have still taken them, just not put them on in the morning because then we had to stop and take them all off.
Most hikers that we saw doing rim to rim had someone at the end waiting on them so they didn't have to put everything in their packs.
Consider water availability. Be smart about knowing where the water stops are and if it is your last chance to fill up. Know the signs of hyponatremia and dehydration.
When choosing to take Bright Angel, be warned of the mule trains. The only way to get supplies down into the canyon is by mule. Also, some people opt to ride a mule to and from the bottom of the canyon if they are unable to walk (there is a weight limit of 200 pounds). When the mule train comes by hikers need to put their backs against the canyon wall to give the mules room. We actually considered not taking Bright Angel trail back to the South Rim because the stench of mule pee and poo is sometimes overwhelming in the heat. Thankfully I believe it was too hot by end of May because we only saw one mule train the whole time so there wasn't much to have to step around.
Know your landmarks for your sanity. It is great to know what is coming up and how long it takes to get there. It is a long day not really knowing how far you are from each landmark.
Our nutrition plan was to take in 150-200 calories per hour while hiking. This seemed sufficient the entire trip for us. We also took careful notice of our fluids every time we passed a water source. I set a timer for 15 minutes and every time it would go off we would drink. I use this for all of my racing and training and it really works for me as a great reminder.
For those who want a souvenir of their rim to rim to rim, they have technical t-shirts in the General Store of the South Rim. Beware that these are men's sizes and I ended up with an expensive nightshirt since they didn't have one to fit me.
If you have any other R2R tips, feel free to share below!