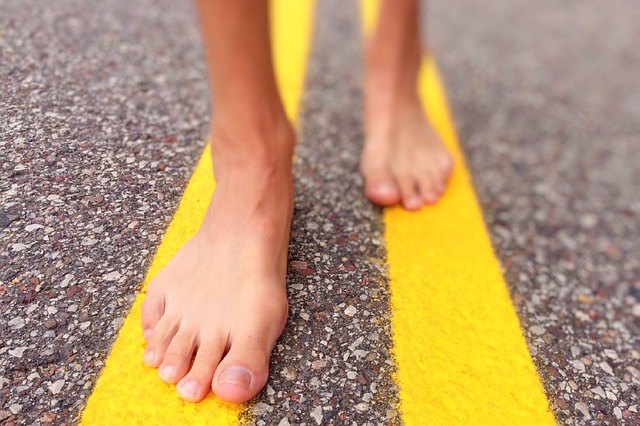 I tend to be an early adopter, especially if it has a little Apple icon, but I was actually one of the brave souls buying the Nike Frees in 2005 when they first came out. I was already trying to run with a more forward posture after taking an Evolution Running course with Ken Mierke. I was able to slowly start using them and got up to about 6 miles. What I loved most about them was that they were super light to travel with since I traveled weekly for my job.
Fast forward to last year when I bought the New Balance Minimus trail runners. I LOVE THESE SHOES. First, they look cool. Second, they feel great but only on the dirt and pavement. I usually can't wait to get past the really rocky entrance to Umstead Park because I can feel every rock under my feet. I also don't use them on the rooty single-track. Only on the bridal paths and usually up to about 90 minutes. Anything longer than that I wear a 'minimish' shoe. So, call me baby feet, but I really don't like the feelings of the rocks and roots. I do agree that we are completely ruining our feet by a lot of the shoes we wear. I don't often wear high heels and if I do, they tend to be a brand known for comfort as well and they have to have a roundish toe. I can't stand pointy toes and they are in no way good for your feet. I love the look of the leg line in heels but my husband usually has to see me in flats or at least a wide heel.
It is interesting right now seeing the minimalist shoes vs the fat-sole shoes that are supposed to shape your butt. I have a hard time with these because I don't see how they can be good for your body alignment to walk in them for very long, but at the same time, are most of the shoes good for us to be walking in? Probably not.
If you do decide to try shoes with a minimal heel, do as the instructions say and work your way up. You might only start out running or walking five minutes in them. Hoopers – minimalist shoes are GREAT to hoop in 🙂
Thankfully I have a job where I work from home so I am barefoot most of the day. However, one step into the outdoors, and these baby feet need some soles.