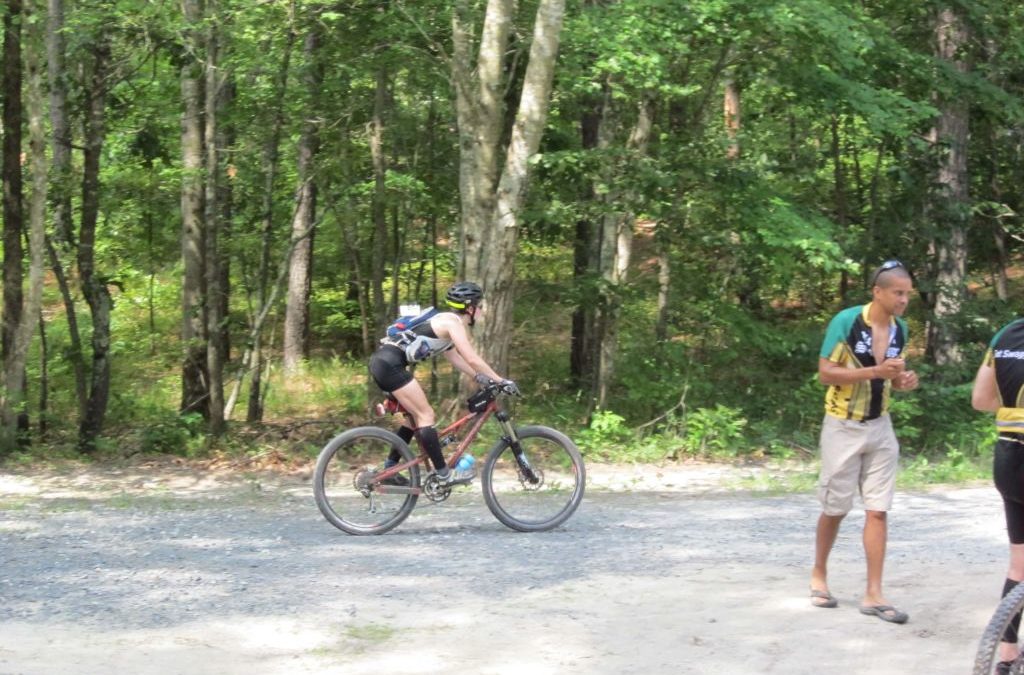 NCARS #2 Adventure Race Report:
The NCARS #2 26.2 hour adventure race was truly an adventure! I drove up with Brian Thompson and we met Jeff Sosa at Cici's pizza for our pre-race dinner on Friday night. If you want good people watching, go into any Cici's pizza. I swear there was a girl of about 4 yrs old with 5 pieces of pizza stacked on her plate, a cinnamon roll, brownie and a large coke. That girl isn't going to have a chance…
So anyway, Jeff woke up not feeling well that morning and was iffy about starting the race Saturday. We got checked in at the campground, got our maps and then went back to the hotel to plot. This was different from a lot of races where you get the maps at the start or right before.
We got to bed around 10:30 w/ Brian and Jeff each in a bed and me on a cot. The air conditioning was up pretty high and I was FREEZING. I didn't want to turn it down since Jeff was sick so I got up a few times throughout the night to dig through my race bag and ended up sleeping with two balaclavas, two jackets and my arm warmers on with the sheet pulled over my head. Poor Jeff was sweating all night. I ended up sleeping about an hour. At one point, about 4:30am, I saw a iPhone light coming from Brian's side of the room, so I whispered "this is ridiculous" and he showed me his iPhone and said "I'm playing Scrabble" which gave me the giggles so bad (and actually makes me LOL right now) that I had to go into the bathroom and laugh because I was afraid I would wake Jeff up.
In the morning we had plenty of time to eat breakfast and gear up since the race didn't start until 10:50am. Jeff said he couldn't do it and felt bad all morning and all day for having to back out. Given the length of the race and the extreme terrain we were facing, he made the right decision. Sad for me because I really wanted to race with him but I completely understood.
Now we were down to a 2-man team. At the campground, one minute before the start, Brian noticed his pedal squeaking and said his pedal was a little loose. Nothing we could do at this point so we started the race. There was no prologue and they didn't really need one since it was a very long climb up the mountain. I think it took us about 75 minutes to TA 1. I decided that having my exerspy was like having a puppy if you are single. I had so many people comment on it I decided that the next person that asked me what it was I was just going to tell them I was on parole and it was a new kind of bracelet 🙂
At TA 1 we saw Jeff and asked him to raise my bike rack which was super helpful while I was out orienteering. Brian and I took off on the trek section to the top of Linville Gorge where we got two CPs. One was a rappel and I was a little nervous going into it. I have never rappeled and looking out over the Gorge was a little anxiety-provoking. Jeff gave me some great tips and made me feel confident and I descended down 100 feet with no problem at all. When Brian made it down we struggled for a good five minutes trying to get his map case unstuck from the cable. Thankfully some guy trekked by and helped us. It chewed up his map case and it is no longer waterproof!
We ran/walked a few miles back down to the TA and grabbed our bikes and took off to the paddle. We missed one CP along the way that meant we had to grab it on the way back and go a different route than what Brian had planned.
Jeff was at the paddle as well and had our stuff all set up for us (I loved this 'supported' race crew stuff!) and we took off on Lake James. The lake is beautiful but it was pretty windy with Irene on the coast. We got three checkpoints which was our goal but the wind never seemed to be at our backs.
We had a long transition from the paddle to the bikes and said goodbye to Jeff for the last time. This bike was a serious uphill slog for about 4-4.5 hours. I told one joke at which I got no response and decided that this was not a joke time. Either that or he is a closet inline skater and I offended him. At one point Brian was a little ahead of me and then for another point I was a little ahead of him but we were never out of sight from each other and really only about 10 seconds apart. Once it got dark enough for headlamps I spent several times cursing mine because it doesn't fit over my helmet all that great and it kept sliding down like a pirate patch over my eye!
When we made it to TA 3 the wind was INCREDIBLE! It was at the top of the mountain and the trees were blowing over sideways. I looked over at Brian and I asked him what he was doing over by the trees and he said "I'm puking" like it was the most normal thing in the world and then he just went about his business! The RD had a fire going so we grabbed our stuff and transitioned by the fire. We grabbed a cup of hot soup that a volunteer was making and took off on the O course.
The O course was probably the most challenging I have been on. The trails were not well marked at all so the RD tried to help by putting flagging but even then we missed sometimes. Bushwhacking was not fun at all due to all the rhodedendron and small cliffs. For the first race I forgot to throw my cargo shorts in the bag and ended up getting all chewed up on my legs. My back already had a raw part on it from pack rub because I had adjusted my straps incorrectly. Other than that, nothing too serious.
Bushwhacking is not my strong point at all and Childrey and May have threatened to send me to live for a week with a family of deer to become better at it (but give me a well-traveled path and I can GOOOOOO!!) Brian's response was 'you don't seem very surefooted' which was a nice way of saying 'you bushwhack about as good as a pig rides a bike' but I appreciate his tactfulness.
At about 4:00am, the witching hour where people are tired, emotional and generally show their 'no-makeup' face, I started going through my normal emotions in my head 'I am no good at this' 'I am not as cool as I think I am' 'Why would anyone ever want to race with me'. At this point Brian needed to sit and rest for a few minutes. He sat back with his head against his pack and promptly fell asleep. What was I going to do but join him (I couldn't just stare at him) and I actually must have fallen asleep for a minute because I woke up and freaked out for a few seconds because I thought someone had stolen our bikes! Uh yeah…we were on the trekking portion 🙂
Thankfully my little feed timer went off and so we were only sitting about 20 minutes before we started off again.
We finished with the O section and had one more bike leg to do where there were 10 options of CPs, of which we had to get 2, and there were some bonus CPs. We thought we could get three before the finish so we took off on the only singletrack section of the course. I was in front and was riding way too cautiously. I always do that if I am on singletrack after being up all night. The way the trails were rocky, with the lights I couldn't tell if there were dropoffs or just little dips so I walked more than I would have if it were during the day. Once daylight hit I started riding much better (new day!) and I heard Brian yelling behind me. His pedal had broken off and he was walking his bike.
We considered trying to MacGyver it but Brian wasn't really motivated to do it at that point and I was not going to judge anyone with a mechanical because it wasn't me that was going to be dealing with it. I let him make the decision so we walked our bikes on the singletrack back up the mountain an hour (as opposed to continuing that section which would have probably taken us 2-3) and then he just coasted down the mountain on the road to the campground.
We ended up doing 21hrs 45 min. Disappointing for both of us since we could have kept going had everything been working properly. I was still feeling good and the weather was great. Brian was feeling good too but it just wasn't our day to keep going.
We took showers at the campground and then Jeff met us at Cracker Barrel in Hickory. I chose to try to nap in the car since Brian almost killed us twice driving to the CB due to sleep deprivation. This goes against my rule for recovery food/drink but the choice was car accident or a few days of glyocogen depletion! I had only had some coconut water, trail mix, apricots and an apple since the end of the race. I never got to sleep but I did stop and get a frappucino with an extra shot and then also needed to get a Diet Mountain Dew. I don't like carbonated beverages and swore off aspartame a year ago but I guzzled it and decided I would drink cancer-causing peewater if it would get us home in one piece. I talked the entire time and made Brian talk to me too. When we unloaded our gear at my house, I didn't even go in before Kevin left to take me to Chubby's Tacos where I got a tofu/vegetable quesadilla, black beans, chips and queso. Delicious post-race meal!
I learned a lot during this race by racing with a different teammate with a different style but those lessons are personal and don't really need to be shared. I would race again with Brian in an adrenalin-pumping heartbeat and hope I also get to share a race with Sosa sometime in the future.
Next up, 9/11 AR where I'll be trying my hand for the first time as the navigator with my teammate David Parsons-Foresi. We will be racing as team Rainbow-Bubbleship.