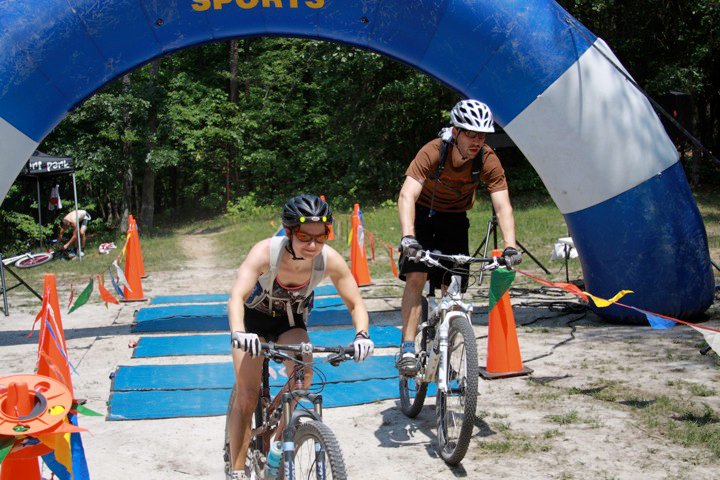 The 20th annual Race Uwharrie trail run was February 5 in the Uwharrie National Forest. This was the second time I have participated in the 20 mile event. Leading up to the race it rained almost two days straight. I was prepared for the mess that I was going to encounter. The night before the race I went to bed at 9pm to be up at 4:15 to hit the road. At around 2:00am I got up for a bio break and drank a protein shake. I don't like to eat much before a race unless it is more than three hours out so the protein shakes in the middle of the night give me some extra calorie 'oomph'. I never really went back to sleep and ended up getting about 4.5 hours of sleep total. At 4:15 I got up and had my small breakfast and we hit the road. My friend K aka Fair-Haired Maiden, was visiting from Phoenix and was doing the 8 mile race. I had accidentally tricked her into agreeing to it by putting 8k in the title of my email instead of 8m.  It wasn't until 3 days before the race that she realized it was 8 miles! She had never run more than 4 miles and this was in Phoenix….on the road.  So now I was making my friend get up at 4am (2am to her body) run twice the distance she has ever ran, in the mountains (again, she is from Phoenix) in the rain (Phoenix). It could not be a more opposite experience than what she is used to but she is a trooper and I promised to feed her Chubby's Tacos. It rained the entire 2 hour drive to Uwharrie and I could only hope it stopped before we took off.  About a mile from the shuttle lot to take us to the start, we stopped at a gas station for a bio break. There was one room and a man and his son was milling around.  I asked the man if he was waiting to use the restroom and his response was "I gotta poop and then I need to change Remy."  I looked at K and said "You want to just go on and see if there are bathrooms at the shuttle lot?" and she agreed. When we got to the car, I said "Did that guy actually say ˜I gotta poop?'" We could not stop laughing and decided he must have really wanted to make sure that we knew that it was urgent he use the bathroom next and that we probably didn't want to go in after him.
The race start was a muddy mess but very well-organized. The technical long-sleeve t was very nice and they had handwarmers for those who wanted them.  I only had three complaints the entire day and the race start time was one of them. At 8:00am we were ready to count down to start and a bus pulled up with more runners.  Those of us who were on time and made sure that we followed the rules had to wait over 20 minutes for the latecomers to get their bib numbers and register even though the website made it clear that registration closed 30 minutes before the start.  It wouldn't have been bad except we were freezing and standing around in the cold getting stiff. My thoughts were that most people weren't racing and as they registered, they could just start running.  If they were racing to win, they probably would have been there on time. Don't you think?
After finally starting, I decided about 100 feet into it that I was going to be very conservative and treat it as a training run for the 50k I was doing in March.  The trails were a mess. Very muddy and puddle-filled and the leaf cover made it hard to see some of the roots and rocks. Amazingly, I didn't fall the entire day.  I knew at mile 11 that I was in for a slow one when I was about 20 minutes off of my previous time.  I counted over 20 creek crossings, a couple over my knees.  The water was very cold but it really never bothered me since the weather was in the 40s.
Complaint #2 was that there was only one Porto-john on the entire course at mile 8 and due to the leaves being off the tree and the winding of the trails, it was a little hard to ensure privacy J thankfully, I only needed this once.
I ended up finishing in 4:41, 37 minutes longer than the last time I ran the race.  I was pretty happy with that considering I didn't fall and injure myself and I didn't really push very hard at all the whole way.  When I ran through the finish I was smiling happily and saw my friend K in the car waiting for me. In homage to Jack LaLanne, I did five star jumps and shouted Jack LaLanne! for each one.  K was dying laughing and I got some laughs and stares.
Complaint #3 was that there were no Uwharrie cookies at the finish!!!  These cookies are famous and they even write about them on the website. I had told K about them too and she didn't get any when she finished the 8.  They were all out which made me wonder how they could be out when I wasn't anywhere near the last person and they knew how many people registered.  Race Uwharrie people, please next year can you allow people to only take one cookie or give out one to each finisher?  I was so looking forward to it!
K drove home so I could stretch in the car (I'm very short so it is easy) and told me about her race. She said at one point, she thought maybe it wasn't 8 miles but the course was in the shape of an 8 and it was actually an infinity course since she thought it would never end.  Thankfully, she was able to walk the next day to catch her flight. (K actually lost 3lbs at Camp Marcey)
I continued the recovery process at home which included sitting in an ice bath for 20 minutes, putting K's snake juice on my knees and lower back (sore from heel striking and bad form the entire run so I wouldn't fall) and ending with a grilled tuna quesadilla at Chubby's and a giant slice of birthday cake at our friend's birthday party that night.
Pre-race meal:
Pure Protein shake (2am)
Small bowl of oatmeal and applesauce, egg white on toast (4am)
Almond milk and hot cocoa (5am)
Race food:
6 GU (variety of flavors, saving my favorite Cherry Lime Roctane for the end)
1 Dixie cup of trail mix
Post race food w/in 60 minutes:
Recoverite
1 chocolate chip cookie
1 Dixie cup of trail mix
Homemade Brussels sprout/apple/onion/walnut salad (trust me, it is gooooood)
3 oz tart cherry juice (anti-inflammatory that I drink 2oz every single day) once I got home
Active Recovery:
Stretching all the way home
Ice bath 15 minutes
Standing watching my husband's band for an hour Saturday night??
Sunday ez spin on the trainer for 45 minutes 15 min Trigger Point Therapy
Monday 30 min intervals on trainer, 15 min Trigger Point Therapy and 60 min massage
Tuesday went out for a 3 mile run and felt great! Normal 180-185 cadence and could have kept going but didn't want to push it. 25 min of TP therapy and 15 minutes of core work.  Legs are still a little tired post-run but a few more days of active recovery and I'll be back in business to dig deeper for my 50k trail run in March!
Finish 117/174 Overall Men & Women
27/49 Women