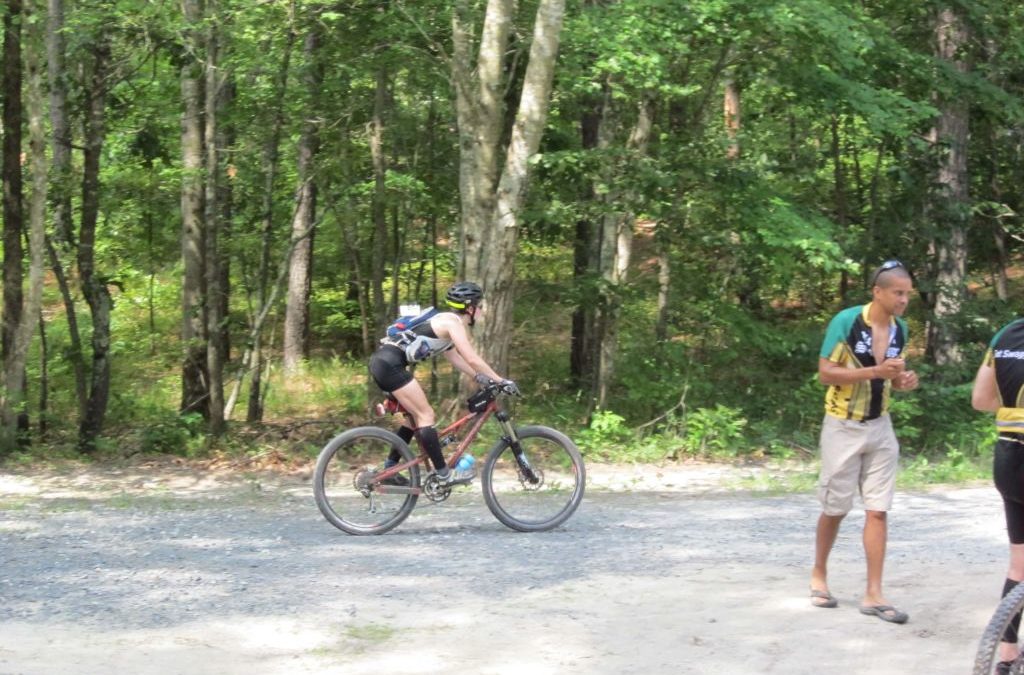 NCARS 2 Adventure Race Report:
May 12 was the NCARS 2 at Lake Norman State Park. The Waterlogged Dogwoods team was represented by yours truly and David Parsons-Foresi, otherwise known as the 'hyphenates'. This was our first time navigating outside of Umstead (which we don't really count) and opted to do the five-hour race. We left at 5am and headed to Lake Norman where the race started on time after a pre-race briefing. During the Q&A, a guy asked if he could drive his car to the O-course. He wasn't joking. Doug handled it well and since this was a beginner-friendly event, I'm sure after the race the guy understood why it was funny question!
I decided that our strategy should be to do the O-course first, followed by the paddle and leave our strongest discipline, the bike, for last. This turned out to be a good decision. We biked down to the O-course and after finding the first one right away, had trouble with the second. David held the map most of the time but we looked at it equally. When we were walking around for what I decided was too long, we opted to go up to the road where we could see where we were and use our compass to get a bearing (first thing – know where you are!). David did a great job and we walked about 300 meters straight toward it. Fortunately, there was a guy there already because I may have walked past it since it was under a log and not as visible from the direction I was walking.
We then tried to get CP12 but after searching too long, I decided that we were losing too much time and needed to get back to the road and try for CP11. As much as i wanted to keep hunting for this one, Marcey's call on spending too much time on it was correct and we had to scoot. Excellent call Marcey (DPF) This one had David getting another bearing from the road and we didn't waste too much time. We ran back to the TA because I felt like we were spending too much time on the O-course and we needed to hustle. We only got 3 of 6 CPs but I felt good that I kept an eye on the clock.
We rode back to the paddle TA and hopped in and decided we would only get one mandatory point of the three CPs to make sure we had time to get the bike points. We paddled as far as we felt we could in the shallow water. I almost took Marcey's head off not turning the canoe fast enough. Sorry Marcey (DPF). This is true. I was almost decapitated but thankfully limbo skills were A+ that day. We jumped out and made our way around knee deep muddy grass for about 150 meters. I'm sure we scared a few snakes. I spotted the CP and we headed back to the TA. Jay Anderson (volunteer) said we had time to get another and encouraged us to go. I'm glad we did because we also found it pretty quick. I'm not often the first to spot the CP flags so yesterday I felt great that I found so many. The energy burst is better than a double-shot!
The last bit was the bike course and it was FUN!!!! Kudos to the course designer, Mike Dickinson, for forcing people to ride the sweet, flowy singletrack at Lake Norman. The singletrack is killer – well worth a day drip from the 919 (DPF). The CPs were not far off of the trails and there weren't so many that it felt like we didn't get to ride. David went ahead since he was faster. At one point he hopped off the trail too early and I passed him but we didn't know it. We got a little separated and he had scary visions of me lying by the side of the trail needing emergency help from being eaten by a snake, bit by a spider or knocked out cold. In reality I was waiting at the CP wondering if he had stopped to get a pedicure. I was having a serious oh BOY moment – where's Marcey and is she okay? She was fine, waiting for me. (DPF) It was about 9 miles in distance and about 1.25 hours for us to ride and get the CPs. Many points I forgot I was racing I had so much fun just riding the trails. YEP!!(DPF) This was, by far, my favorite part of the race. I always feel bummed when I am on a course with great singletrack and my navigator makes me bikewhack most of it (yes, I'm talking to you, Major). Anyway, David and I felt like kids and can't wait to go back and ride those trails again!
We came in at 4hrs and 35 minutes and felt that our strategy for the day was the right one. At first I was disappointed that we didn't get more O-points but then I realized that it is also knowing when to bag it and deciding which points are possible in the alotted time frame. I have no idea how we finished and get impatient waiting to post my report so let's just say we didn't win but I don't think we were last either! I needed to be racing with Bob because I realized after we finished I didn't take a single picture 🙁
I conjured Don Childrey and Bob May throughout the race and there were several times that I said "Look what I did!' to Don since he has been patiently teaching me to navigate. David did a great job with the compass and once again we had a great race together and complement each other well. I have raced NCARS races 4-5 times and have never been an official finisher due to mechanical issues, DQs, not getting a mandatory point etc. so it was great to finally finish an NCARS! This was my first NCARS race and I'm looking forward to my next!! (DPF)
On the ride home I decided I needed a post-race milkshake since the last one I had was at Nationals in October when David and I were driving back. I was mildly obsessed with getting one at Chik-fil-A because I had one there two years ago but it was too far away so we stopped at DQ for a small peanut butter frozen hot chocolate (OMG) for me and a small butterfinger blizzard for David. We needed smalls because, well, it's bikini season for David 🙂 Bikini season indeed. Marcey is an excellent teammate and enjoy racing with her and the car ride to and fro is always good car time. DPF