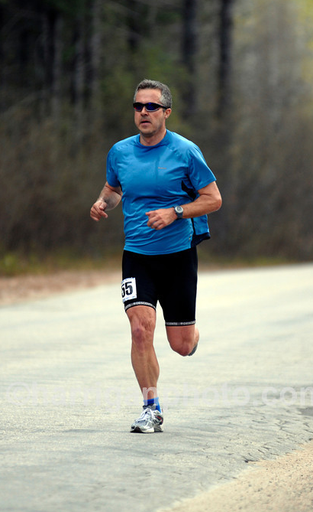 Storm the Eastern Shore 30 Hour Adventure Race Report:
Storm the Eastern Shore started with just that, a storm!! The events leading up to the race were very stressful for me. We started with a three man team a couple of months out and the navigator was in a motorcycle accident and broke his wrists (good excuse). My other teammate dropped out on me for a family event nine days before the race without finding me a back-up. I had already asked everyone I knew that navigated to race with us before I was down to a solo and now was panicking because I was going to have to drop out. I made one more effort and asked Brent Eishen for the second time and he was gracious enough to agree. I only knew Brent a little from mountain biking so it would be a new experience. The one time we met up to practice paddling we immediately flipped the kayak and never even had time to practice after we finally got all the water out! BE: I was sure she was thinking I don't want to get a Kayak with him when we flip in flat water. 
We left on Friday and drove up with BJ Creehan who was racing as part of Bees Knees to Cape Charles, VA about 4.5 hours away. On the way to VA it stormed buckets of water and was not even safe to drive. We were already storming the eastern shore. We had planned to camp but our campground was flooded and we found a motel near the race start. We shared a room with two solo racers  Scott (2nd place overall) and Shane, and Brent was nice enough to sleep on a cot and let me have a bed (Thanks Brent!). Pizza for dinner and bed by 10:00.
After a good night's sleep (for the night before a race) we were all up at 5am. I had a good laugh at Brent wearing his paisley pj pants tucked into his knee socks and the image stayed with me and caused giggle fits during the entire race. After a 6am check-in we spent the next three hours figuring out our gear bin and packing up everything. We rented a kayak and were unhappy to see that we were the only one that got stuck with a touring kayak! It wasn't even a nice sea kayak. Brent looked it up online when he got home and it weighs 96 pounds (without all of our gear) and had an awful review.
Instead of a prologue at the start we had to run about four miles down to the ocean with our packs, paddles and PFDs, stopping to get a couple of points along the way. We jumped in the water with the kayak only to have our rudder break about five minutes in. The next 9 hours or so we took turns telling the boat what a big fat loser she was and she shouldn't show her ugly kayak face to the ocean anymore. We didn't like her. Brent's seatback was also broken and mine was unable to adjust so we had a hard time getting comfortable too.
Thankfully, the only time it was raining was while we were paddling so the weather was actually perfect the entire race. Not too hot and overcast. We paddled to CP 4 and I jumped out as the primary punch monkey for the race. Paddling to 5/6 we had to jump out and push the boat some because of the low tide. I lost my Keens twice due to mudsuck but we didn't waste too much time. I navigated through the water with the laminated map and we did take one wrong turn that I was unsure about right after we passed it. There were lots of little inlets and marshy areas so it was hard to tell where you were since the map changes as the tide changes.
We went on to 5/6 where we had a choice for a bonus point. We were afraid that we wouldn't get to the cut-off at 3p and lose the bonus points so we skipped it. CP8 was a portage of the Beast about a mile, punch and then portage back. We both thought this was kind of BS because it was a portage just for the sake of portaging and not to go anywhere but we had to go with it.
NOOOOO!!! Five steps with the Beast and the portage wheels broke! Probably because she was so heavy?!?!?! Brent is strong as an ox and dragged it about 300 meters and asked me if I could pick it up. There was no way. Our only other option was to take back the portage wheels we had loaned to BJ who we saw running back from CP7. It was easier for him to drag his boat along the shore in the water than for us to do it so he kindly gave them back to us. After pulling the monstrosity we hopped back in the Beast and opted not to get bonus CP9 even though we would have had time.
Then it was a paddlethon. Thankfully we ended up paddling at the same time as Bees Knees and could bounce navigating ideas off of them. It took super effort from Brent and I to be able to keep up with them due to combination of them probably being better paddlers and definitely having a better boat.
All in all, the paddle took us about 9.5 hours. I have never paddled so far. Someone said it was about 27 miles so I guess the route we took and a couple of wrong turns in the marsh areas was probably more like 29.
I was so happy to see TA1 but not happy to hear that we would have to paddle again the next day to the finish! We changed into dry clothes and were thankful that Rob Ward was there to help us a little bit and take our broken portage wheels back to the campground. It had been awhile since Brent plotted so he had to reteach himself. I initially thought Oh, s..t. but I could plot if I needed to. We marked up our map and took off.
Right off the bat we took a wrong turn and lost about 10 minutes. BE: On the map it looked like the road out of the park. Hit the road we needed to be on so all we had to do was make a right. Lesson #1 note to self, check the name of the road and or the direction by compass before you start) every race I have lessons = learn/remember something I said I would not do again. When we got to the first bike CP, Factory Refurbished caught up with us and left right before we did. We were a couple of minutes behind them at CP 10 but took a road we shouldn't due to a misunderstanding with the instructions and ended up getting somewhere about 2 minutes ahead of them. After we figured out why, I knew we would lose that point or at least get a penalty.
The first orienteering section started off terrible. We felt so defeated. About 6 other teams were trying to find CP 26 and 27 for about an hour. BE: Lesson #2 Do not follow others because you think they know exactly where they are going even if they are starting in the right direction. (often forgotten when in the heat of a race) After working with a number of other teams to find #27 we decided to work with them to find #26. Lesson #3 How do you find another point when you do not know exactly where you are. So we decided to find a known point and navigate by ourselves using basic navigation. This is run a bearing, follow the terrain, and pace distance. The next eight points were a breeze and we went almost directly to them!
We finally gave up and went to get the house ruins CP and found it right off. We were there at the same time as Natty Bros Mike and Jose and were all so defeated that we decided to team up. From that point on it became the Natty Dogs or Waterlogged Bros team. We ended up racing with them all the way to the last paddle. It made it really fun and was helpful for both teams (strategy is also choosing other people to work with!). At that point, we made the O-Course our b…h and found several CPs before calling it to move on to the bike. BE: We also decided to help some first time navigators showing them how to run a bearing and read the terrain. We had two other teams basically follow us to the points. Since they didn't really add anything to our group, Brent decided that he should eat half of one guy's stinger waffle. He took it right out of his hand.
The bike was fun at night and I drafted Jose for a good portion of it. I am usually anti-draft in training and racing (tri or mtb) but for AR it only makes sense if it works. We averaged about 17 miles per hour on our MTBs. Jose and Mike are super-strong bikers and Brent is a workhorse so if I wasn't drafting off of Jose, I was drafting off of Brent. And, I was STILL working.
The next O-course was a pirate's treasure map. A hand drawn map of a birding and wildlife area. It was a little frustrating because of it being hand drawn but everybody had the same advantage. At some point in the night, I had eaten several gels and didn't ration them appropriately and space out my caffeine. I think I had four 2x caffeine gels in about four hours. This was not a good decision. I had to use the weed facilities every hour, sometimes more. Thankfully I didn't hold us up and it was always when something else was going on but still, geez! I actually thought by later in the morning that I was getting a UTI from going too much + I was having other issues but both went away so I suspect it was just an overdose of caffeine. Ultimately, I came home with a butt eaten up with bug bites because it was the only place that didn't get sprayed with DEET. So, if you see me scratching my arse, you know why.
During this O course is when the sun came up and I gave Brent his gift for racing with me, a Wisp toothbrush. He agreed that I was the coolest teammate ever for carrying this for almost 24 hours so we could brush the grit off of our teeth. I was even more impressed that Jose brought an actual toothbrush and paste in his gear box and brushed his teeth at the TA before we took off!
The last bike section was fun but we struggled to stay up with Mike and Jose. I think they were either so psyched to paddle again or were so sick of us that they took off like lightening. We were actually averaging 17-19 miles per hour for the last bike section. I was drafting and hooked up the dog leash and both Brent and I were working hard to keep up with them. BE: I was amazed at how fast we biked. The 4 person pace line worked extremely well and all of us were flying on the road. I gained a lot of confidence when we went back to basics and I did not try to rush myself. Marcey was a great motivator and very patient which helped me to slow down and think. When we got to the paddle and found out it was 8 miles as opposed to the 4 we thought it was we again felt defeat. The first hour was pretty awful. At this point it was about 24.5 hours into the race and we were out of food and fluids. I shared my one bottle of coconut water with Brent and we paddled like zombies. Our arms were so fatigued and we wanted to set fire to that Beast. Once we reached the halfway point, I made a mental decision to kick it in to get the hell out of that boat. This encouraged Brent to also kick it in since he was actually having trouble even staying awake and was yawning every 5 minutes. When we finally reached the pier, we had to portage uphill about .5 miles. I was so happy to get rid of that boat!
We finished in around 26.5 hours and got all the mandatory checkpoints and a couple of bonus checkpoints. I told the RD about the wrong turn and he gave us a 30 minute penalty which was fair since we didn't gain even near that time. Maybe 7 minutes max. Thank you RD! I was very happy to see that they were grilling burgers and dogs and had VEGGIE burgers!!! No RD has ever had this. Note to RDs there were probably 4 of us, just while I was there, eating the veggie burgers so I am definitely not the only one
We took showers at the campground, during which I had to scrape/pick 20-30 things off of my left ankle. I have no idea what they were or if they were alive but my ankle now looks like someone hit it with a meat cleaver.
We had some food, said goodbye to everyone and took off for the drive home. Fellow Adventure Racers, I unpacked my entire gear box, hosed stuff down, put everything away and started a load of laundry immediately when I got home! Even I am impressed with myself.
What I learned from this race: Do not ingest too much caffeine at one time. My body just CANNOT handle it.
Racing with Brent was GREAT! I learned a lot from him. We never stopped once, which is how I like to race. If we ate or drank we were moving. At the transitions, we did what we needed to do and left. He is really fast at transitions and I was not as fast so it was a good learning experience. We always rode fast on the bikes and even though we didn't run any of the O Courses, we kept moving. He is probably the funniest person I have raced with and the most intense. Before every TA there was a plan and he was always ready to hustle. I would race with him again in a heartbeat, but not in that Melon-Farming kayak.