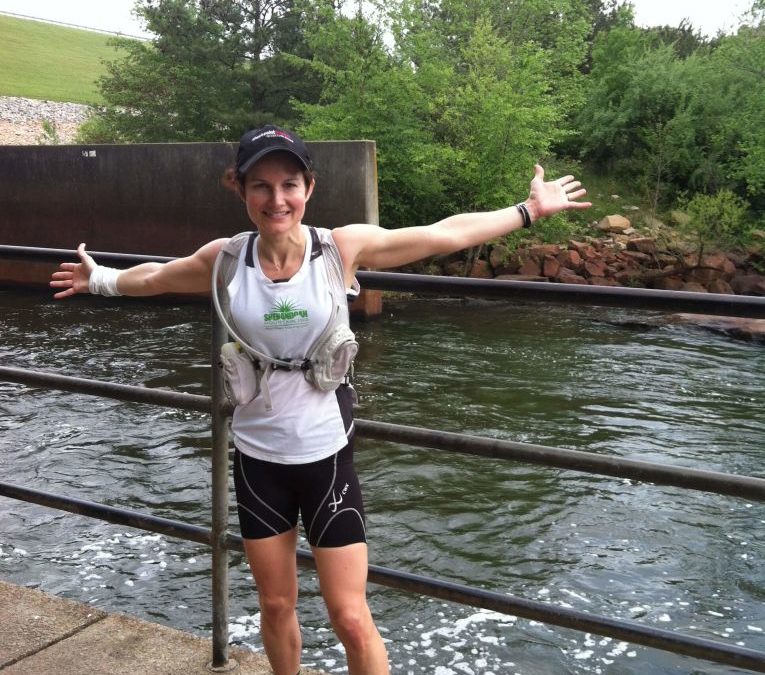 April 15 I completed the Mountains to Sea Trail 50k trail run ultra race. Originally I was supposed to complete this two weeks prior but instead paced my winter running partner, Jay Spadie the last 50k (31.06 miles) of the Umstead 100. Since I had signed up for the race, I went to packet pick-up and got my shirt, but refused to wear it until I deserved it, meaning finished the race.
Two short weeks after the Umstead 100 I wanted to get this off my to-do list because I needed to start focusing on training for Adventure Racing and the Fools Gold 100 mile MTB race. I'm not really in 50k shape so I knew it wasn't going to be a breeze. Plus, two 50ks in two weeks is a bit ambitious!
Spadieman agreed to come out of retirement to do the trail with me, even though I would have completely understood if he never wanted to run another step again, because he felt he owed it to me for missing the race to pace him. It was no secret I was glad about this because the trail is pretty isolated and is an out and back from Blue Jay Park to the dam and I wouldn't have felt completely comfortable doing it alone.
I set my little Runkeeper App and we took off at 7:58am. The run out was pretty steady and I felt good except for a blister popping up on my pinkie toe. Spadieman had extra kinesiotape so I bandaged it up and never felt it again. We turned around at the dam and started making our way back. I'm not sure if our route around the dam area was correct and we stopped to take in some of the views but I'm sure it was close.
My time back was slower and the last 6 miles seemed soooo long. This route is almost all singletrack except for a few stretches of bridge (I dislike those stretches). I also had a cheering section of horseflies and mosquitoes pretty much the entire run while Spadieman had NONE. I entertained him by maniacally swatting at them with my hat. If I was kidnapped and tortured, just put me in a room with mosquitos and horseflies and I will succumb in an instant.
When we got back to Blue Jay Park we ran around the parking lot until the Runkeeper lady said we had ran 50k. I did five burpees and hobbled to the car to put on my shirt.
My total time was 6:43, a 13 minute pace. I celebrated with a Spadieman PB&J (heavy on the PB) and a java chip frappucino to go. I thought I would get a bunch done around the house when I got home but the only thing I accomplished was an Epsom Salt bath and a hammock encounter.
Next up – Race Directing the GEC Duathlon today, racing the NCARS2 Adventure Race and Old Dominion Riverrock Festival in May.